JOSEPH BRYAN, husband of Belle Stewart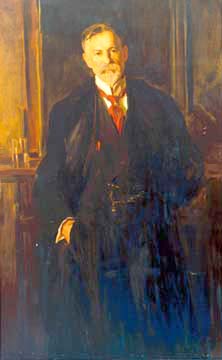 Born in 1845 at his father's plantation "Eagle Point", Joseph Bryan served in the Confederate Armed Forces with the Richmond, Va., Howitzers and Mosby's Rangers. And in 1868, Bryan received his law degree from the University of Virginia and met Isobel Lamont STEWART, whom he married three years later. He was involved in many Southern industries, including railroads and newspapers. Bryan acquired The Daily Times, a struggling Richmond paper, from his friend, Maj. Lewis Ginter, in 1887. In 1896, he acquired another newspaper, The Evening Leader, founded in the town of Manchester, just south of Richmond. Two other papers also competed for local readership at this time. The Richmond Dispatch and The Richmond News were owned by John L. Williams. The competition could have greatly intensified if an impromptu deal had not been made between Bryan and Williams at a YMCA fund-raising dinner. By the end of dinner, the two had agreed that consolidation was best for the success of the papers and the interest of the city.
Joseph and Belle Bryan settled at Laburnum, Bryan's ornate Queen Anne style mansion built in 1884. Laburnum burned down in 1906 and was replaced by a Classical Revival style mansion. In 1949 the house, located at 1300 Westwood Avenue, was donated to the new Richmond Memorial Hospital.
BRYAN ANCESTORS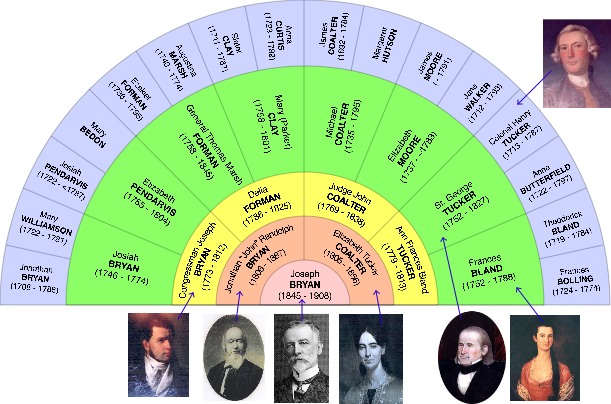 Illustrious ancestors of Joseph Bryan include:
Sir Edward Harley (1624-1700) -- Lord of Brampton-Bryan, Member of Parliament, Governor of Dunkirk. Our immigrant ancestor, Joseph Bryan is believed to be his illegitimate son.
Jonathan Bryan (1708-1788) -- "First Georgia Martyr of the Revolution" and Member of Council.
Joseph Bryan (1773-1812) -- Three-term congressman from Georgia, close friend of John Randolph.
Augustine Herman (1621-1686) -- immigrant from Prague and Lord of Bohemia Manor
Henry Tucker (1713 - 1787) of Bermuda -- aided Ben Franklin in a daring plan to provide gunpowder to the Revolution.
St. George Tucker (1752 - 1827) -- judge, legal scholar, advocate of free speech and emancipation.
Colonel William Randolph (1650-1711) -- a founder of William and Mary College.
DESCENDANTS OF JOSEPH BRYAN
This chart shows only three generations -- there have been at least four more.