JOHN STEWART, PATRIARCH OF THE BROOK HILL FAMILY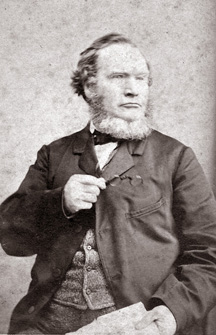 John Stewart [1806-1885] came to the United States from Rothesay, Isle of Bute, Scotland in the 1830s with his younger brothers Daniel Kerr Stewart [1809-1889] and Bryce Stewart [1811-abt 1900]. While Bryce settled in Clarkesville, Tennessee, John and Daniel settled in Richmond Virginia where they prospered as traders. In 1842, John Stewart purchased the "Brook Hill" estate and its farmhouse from his future father-in-law, Robert Carter
WILLIAMSON
, before marrying his only surviving child, Mary Amanda.
John Stewart and his wife Mary Amanda Williamson produced seven daughters and no sons. Only the three eldest Stewart girls married: Mary Amanda married Confederate hero Captain Thomas PINCKNEY in 1870, Isobel Lamont (known as "Belle") married entrepreneur Joseph BRYAN in 1871 and Marion Macintosh became the second wife of Right Reverend William PETERKIN in 1884.
THE STEWART DAUGHTERS







After John's death, Daniel Stewart - who never married - left his considerable fortune to John's seven daughters. This enabled the four spinster aunts, Lucy, Norma, Annie and Hope to travel in Europe and Asia and remain in comfort at Brook Hill until their deaths. The last living Stewart daughter, Annie Stewart, lived to the age of 104 and it is her estate that provides for the upkeep of the house and grounds. It is due to her prescience that Brook Hill has remained in our family to this day.
ANCESTORS OF JOHN STEWART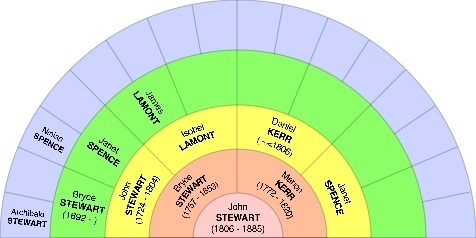 Family lore (and wishful thinking) suggests that we are descended from the Stewart Kings of Scotland and England. However, what little solid information we do have about our Stewart ancestors comes from a handwritten copy made in the 1880s of the parish records of Rothesay, Isle of Bute. From this we know only that John Stewart is the great-grandson of one Archibald Stewart, Provost of Rothesay, and builder of the beautiful house called "Stewart Hall".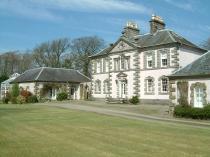 The Stewarts of the Isle of Bute are all apparently descended from John Stewart, the illegitimate son of King Robert II [1318-1390], called "The Steward." The Stewart of Bute tartan looks like this: