Much of Henrico County was originally the property of the WILLIAMSON family, whose history in this country is not completely researched. The earliest Williamson ancestor we know of in Virginia is one Cuthbert Williamson [??-1678] who was murdered by his indentured servant, Thomas Hellier. At the encouragement of a British preacher who wished to discourage Englishmen from selling themselves into indenture, Hellier wrote a pamphlet claiming the murders were justified because "Cutbeard" Williamson and his wife were abusive masters.
ROBERT CARTER WILLIAMSON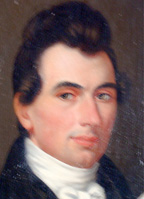 Cuthbert's great-great-great grandson, Robert Carter Williamson [1796-1873] inherited the Brook Hill Estate from his father Robert Williamson II. His first wife, Paulina Storrs died in childbirth, as did his first son. Paulina is buried at Brook Hill. His second wife, Lucy Parke Chamberlayne also died very young, at age 22, after giving birth to two children, Mary Amanda WILLIAMSON [1822-1910] and Robert Carter [1820-1864], whose life remains a mystery. In 1843, Mary Amanda Williamson married John STEWART and became the matriarch of the Stewart Clan - and a ubiquitous figure in photos of Brook Hill of the period.

WILLIAMSON ANCESTORS (Robert Carter's grandparents were first cousins, thus the repetitions in the chart.)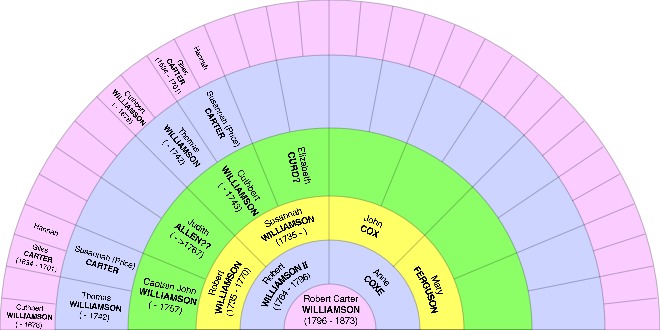 The Williamsons would wear the tartan of the GUNN clan:


CHAMBERLAYNE ANCESTORS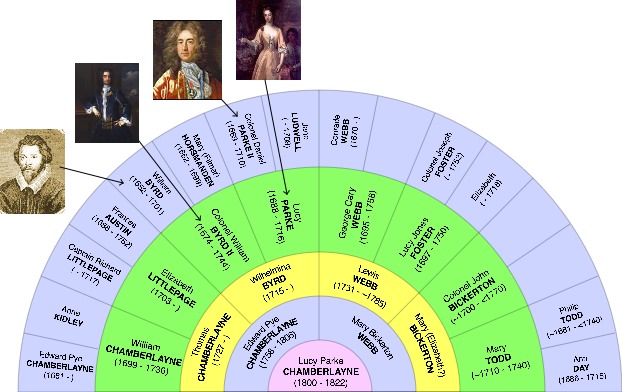 Mary Amanda WILLIAMSON'S mother, Lucy Parke CHAMBERLAYNE [1800-1822] counts among her illustrious ancestors William BYRD [1652-1701] -- 1679 immigrant to Virginia and first owner of Westover Plantation. Colonel William BYRD II [1674-1744] -- founder of Richmond, Agent for the Colony, builder of Westover Plantation. Captain Richard LITTLEPAGE [??-1717] -- original owner of Cumberland. Colonel Daniel PARKE II [1669-1710] -- Governor of the Leeward Islands.